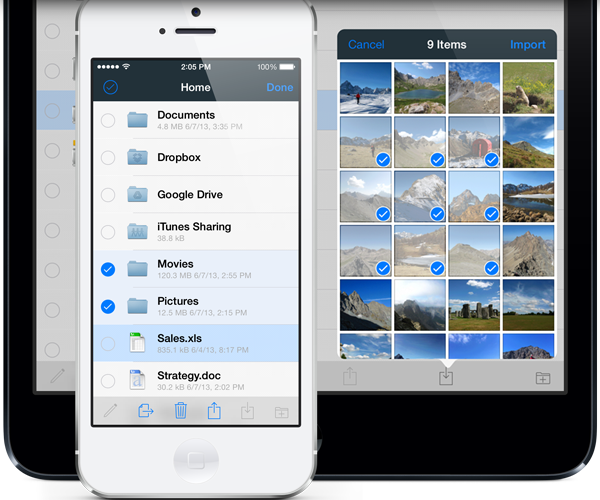 Store your files without limits
Store virtually any type of file on your device. Enjoy them anywhere, anytime. Even offline. And quickly share them with other devices over WiFi or Bluetooth. Rock solid app, easy to use, and perfectly integrated into iOS.
Built-in viewer which lets you open and view virtually any file type, including documents, pictures, music, and compressed archives.

No Internet required. Enjoy your files anywhere, anytime. Even offline.
Create folders to organize your files.
Share your files with other smartphones, tablets, and computers.

Browse and view the contents of ZIP, RAR, 7-ZIP, and TAR files on the fly without having to uncompress the entire archive.

Browse files and folders in your Dropbox and Google Drive without leaving File Storage.
File Storage is the only file manager you need.

Find answers to commonly asked questions about File Storage.

Running into problems with File Storage? Here are a few tips.

Spend a few minutes going through this guide to learn some File Storage basics.
I used and tested a dozen file manager programs on AppStore, and this application is the best.

USA App Store
This is an exceptionally well-designed app, with quite fantastic features. I fell in love when I opened a .zip file without any hassle at all. I didn't even know you could do that.

USA App Store
Just what I was looking for!

USA App Store
Other Customer Quotes ↓
Great app works beautifully.

USA App Store
Iper veloce sia nella connessione dei dispositivi che ne trasferimento dei file. Bump e Mover sono molto limitate. Questa trasferisce qualsiasi file, le altre due no.

Italian App Store
Ottima applicazione che mi consente di trasferire facilmente i miei documenti e file tra il mio Mac mini e il mio ipad. E' molto intuitiva da usare. Inoltre adesso mi consente di scambiare i file con i miei amici anche quando non sono a casa dato che adesso prevede la connessione via Bluetooth.

Italian App Store