We offer three apps for the storage and exchange of files on iPhones, iPads, and iPod Touches. Choose the one that fits you and your business.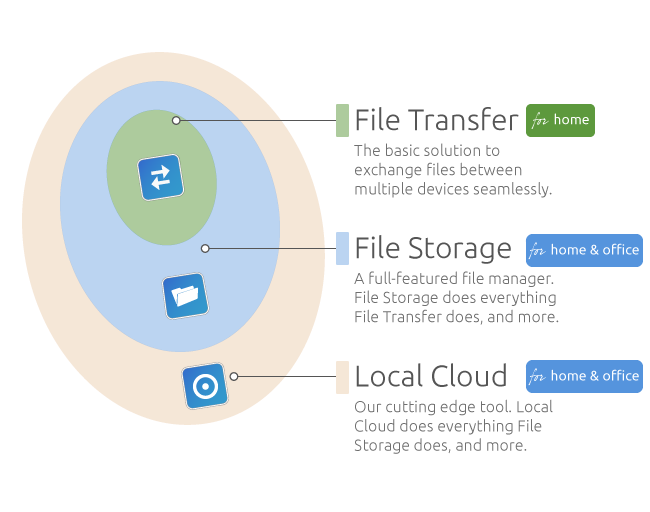 File Transfer
File Storage
Local Cloud
Core features
Share files with other smartphones, tablets, and computers
Accept any type of file from any other app
Import photos and videos from the library of the device
Exchange photos and videos with other smartphones, tablets, and computers
†
†
†
"Transfer" extension which allows you to easily send files, photos, or videos from other apps via the Share button
"Import from Location" which allows you to get files stored in iCloud Drive and other third-party apps using the Document Picker
Select all files in a folder with a single tap
Built-in viewer
Built-in viewer for common files
‡
Powerful photo viewer
Winamp-style music player
File management features
Create folders to organize files
Browse and view the contents of ZIP, RAR, 7-ZIP, and TAR files
Compress attachments on the fly before sending them via email
Dropbox and Google Drive integration
Transfer files via USB
♦
♦
Advanced features
"Document Provider" extension which allows you to access stored files from other apps
Open files on a Mac or PC through Local Cloud
† If you need to exchange a lot of photos and video do not miss our app Picture Transfer →
‡ Limited and less powerful than File Storage and Local Cloud.
♦ Via the iTunes File Sharing.